Laminate Flooring in Turlock, CA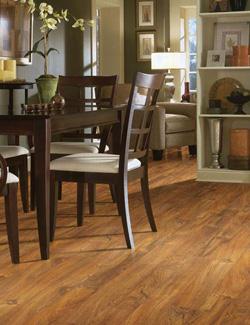 Are you looking for a gorgeous, easy to maintain, and reasonably priced flooring upgrade for any room in your home? Consider laminate flooring from our flooring store. We offer a wide selection of laminate floors at great prices so no matter what style, color, or tile shape you prefer, we can provide. Be sure to schedule laminate flooring installation to protect your new investment.
Our laminate flooring prices and selection are sure to impress you, and if you're not sure what type or style of laminate tile flooring works best in your home, feel free to ask our flooring experts. We have extensive knowledge and experience with laminate flooring as well as ceramic tile and even hardwood.


Choose from a Wide Selection of Top Brands
Are you looking for modern, elegant flooring for your chic new home? Perhaps you're more drawn to the traditional and rustic look of hardwood floors? No matter what your personal taste in interior design, we have a laminate flooring option to suit you. Because laminate is a printed material, it is very versatile and available in almost any style imaginable. From the appearance of hardwood plank tiles to ceramic and natural stone, you can enjoy the look of any type of material without the maintenance or price tag.


Benefits of Long-Lasting Laminate Flooring
Laminate flooring is more than a versatile flooring material. It's also very easy to maintain and lasts for many years when properly installed. Because laminate repels dirt, moisture, and spills, it's suitable for kitchens and bathrooms as well as living rooms and bedrooms. With regular sweeping and mopping with a mild detergent, your laminate tile flooring is sure to look and function great for years.


Laminate Flooring Installation by Professionals
In addition to offering top-quality floors by leading manufacturers like Republics, Armstrong, and Floorcraft, we also offer laminate floor installation by skilled professionals. Rather than spending a fortune on an outside contractor, why not use our experienced team? Our experienced flooring installation contractors have the skills and equipment necessary to properly install all types of flooring.
Don't pay a fortune for inexperienced flooring installation. Our team offers skill, experience, and properly completed work at prices that don't break the bank. Be sure to protect your gorgeous new flooring by allowing skilled and qualified professionals to install it.



Contact us to upgrade to high-quality laminate flooring. We're proud to serve customers in Turlock, Hillmar, Denair, Hughson, Oakdale, California, and the surrounding areas.