Hardwood Flooring in Turlock, CA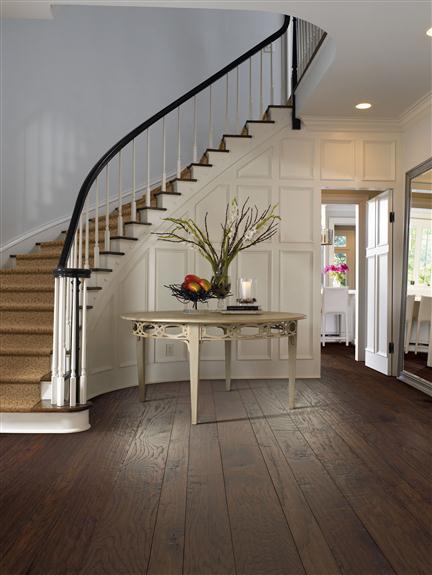 What better way to add elegance to your home than by upgrading your space with new flooring? Few home remodeling options do as much to reinvigorate the look and feel of an indoor space as a new surface underfoot. Rich in rustic appeal, hardwood floors upgrade any space they're used in with an instantly noticeable charm that's sure to make the room more elegant.
At Arrow Floor Covering, Inc., we proudly showcase an impressive selection of hardwood flooring in Turlock, CA, that is sure to satisfy shoppers of all tastes and preferences. Locals love our showroom for its diverse selection of premium flooring options including solid hardwood, engineered, and handscraped hardwood choices.
When you step foot in our expansive showroom, shoppers will have no trouble finding an impressive assortment of suitable flooring options. With so many different qualities to consider such as color, finish, and grain, finding the right choice for your project could be somewhat difficult, if not overwhelming. Our knowledgeable flooring specialists are always available, ready, and willing to help ambitious home and business owners find the flooring solution that perfectly meets their every need.
Update Your Space with a Beautiful Aesthetic
From light-colored natural hardwood to dark and elegant hickory and oak, we have a variety of hardwood floor options for every taste. We carry a wide range of species, grain types, colors, and gloss types. Stop by our showroom to get hardwood flooring made from acacia, birch, maple, pine, oak, and many other species of trees. In addition to solid hardwood, we carry specialized styles like handscraped, engineered, and beveled planks. No matter what your taste, we carry something to suit your style perfectly.
We see your flooring project as more than just a service that needs tending to. An investment in new flooring is an investment in the overall look and feel of your interior atmosphere. You spend a great deal of time in your home, so why not make it a comfortable and visually appealing place to be? Hardwood offers an unmistakable appeal and brings an enticing warmth to any interior space. Whether you prefer a rustic, traditional look or a modern, elegant feel, hardwood flooring is a great choice for almost any room.
Our hardwood flooring prices are ideal for ambitious homeowners on a budget. We carry high-quality products from some of the industry's most trusted manufacturers. Enjoy our top-quality floors from big names including Armstrong, Castle Combe, Floorcraft, Monarch Plank, and Somerset. Trust our dedicated showroom staff to help you choose the perfect floors to improve the look, function, and value of your home.
Carrying a Vast Range of Hardwood Options
From light-colored natural hardwood to dark and elegant hickory and oak, we have a variety of solid hardwood floor options for those of every taste. We carry a wide range of colors, grains, and glosses. Stop by our showroom to get flooring materials made from many different species of tree, some of which include:
In addition to solid flooring materials, we carry specialized styles like handscraped, engineered, and beveled planks. If you're unsure which flooring best suits your needs, share your design aspirations with one of our knowledgeable associates, and we'll help you find an appropriate choice. Leveraging our in-depth knowledge of our expansive inventory, we'll help you find the perfect hardwood flooring that complements your existing décor and meets your price, durability, and performance requirements. No matter what your taste or preference, you can rest assured that we've got something to suit your style perfectly.
Depending on which space you wish to redress, traditional hardwood flooring materials might not be the best choice for your project. Though the natural beauty of hardwood complements any room, it isn't liable to last long in areas that get exposed to a great deal of moisture. For this reason, rarely are basements, bathrooms, or kitchens lined with solid hardwood flooring.
Within our showroom, shoppers will find several high-performance wood flooring products that are sure to stand up strong, even in unconventional, moisture-prone spaces. If you're looking to replace the flooring in your basement, bathroom, kitchen, or another moisture-prone area, it only makes sense to choose a material suited to fit your needs. Our engineered hardwood is an ideal choice.
Strong to the core, these unique products are made from several layers of hardwood fused together and treated under intense heat and pressure. Easily resisting sudden variations in heat and humidity, these floors allow you to impart the look of natural hardwood without worrying about its performance in a non-traditional setting.
Convenient Hardwood Flooring Installation by Professionals
New flooring is a significant investment that will add value to your home. It allows you to impart a look you can be proud of that, with regular maintenance, will last year after year. Make sure you maximize and protect your investment by turning to our skilled crew members for a professional hardwood flooring installation.
Our commitment to our customers doesn't stop once you've found the perfect product for your project. When you put your installation needs in our capable hands, you can count on us to lay your new selection perfectly in place. Whether we're replacing your living room floors or laying engineered hardwood, you can be sure that our experienced crew will give every inch of your new floors the proper treatment.



Contact us to learn more about our vast selection of hardwood flooring options. We proudly serve customers in Turlock, Denair, Hilmar, Hughson, Oakdale, California as well as the surrounding communities.